First Stages of Renting Your Property
Valuation
We will initially view the property to assess its rental value. At this point we will answer any questions you may have and determine the most suitable service to meet your requirements. We will also be able to make recommendations where necessary that could potentially increase the rental value of your property. Our advice at this point is completely free and aimed at making sure you have a firm understanding of all your obligations before proceeding to let your property.
Marketing your property
Once you have decided to appoint us as your agent, one of our representatives shall visit the property in order to take some internal and external photographs. We shall use the photographs and the information we have collected to create an attractive advert which we shall display whilst marketing your property.
In order to maximise property exposure, our website is updated daily and our properties are listed on market leading property portals
Our highly trained and efficient staff will make sure that the best service is delivered to both the landlord and tenant.
Presenting the property
As the lettings market becomes more and more competitive, it is important that the property is presented in the best way possible. Without this, the property could remain empty for longer as well as affecting its rental value.
To help a rental property appeal to a wider market, we would suggest the following:
Keep the colours in the property neutral.
Gardens must be kept maintained (when a tenant occupies the property, the maintenance of the garden becomes their responsibility).
Keep the equipment provided and furnishings as contemporary as possible (can still basic).
Check for any grouting issues in places such as the bathroom. Any mould issues here can really effect a prospective tenant's decision to rent the property.
If the property is a flat with a communal entrance and hallway, make sure that for the benefit of all tenants that this area is kept tidy and clear of debris at all times.
Double glazing and gas central heating is another popular feature amongst prospective tenants.
In general, try to find and rectify any damages around the property that can be easily seen or experienced.
Obtaining the tenants and referencing
Arguably the most important factor when letting the property is the prospective tenant. The whole success of letting depends on finding the right tenant. If an applicant wishes to proceed with a tenancy, We will assess their suitability.
The references aim to check that each tenant is creditworthy by for example checking for CCJ's and arrears and obtaining employer, landlord and character references. Once references have been received, we will contact you to confirm the results of this and advise of the proposed checking in date.
All necessary legal paperwork, including an inventory will be prepared and signed and any outstanding balances settled by the tenant before the tenancy commences.
Important Safety and Legal Requirements
Gas Safety Safety guide
The Gas Safety (Installation and Use) Regulations 1998 say landlords must ensure that gas appliances, fittings and flues are safe for tenant's use and that installation, maintenance and annual safety checks are carried out by a technician registered with the Gas Safety Register (which superseded CORGI on 1st April 2009).
The landlord must keep a record of the safety check for two years and issue a copy to each existing tenant within 28 days of the check being completed and issue a copy to any new tenants before they move in.
Electrical Safety Safety guide
While there isn't a legal obligation on landlords to have professional checks carried out on the electrical appliances, there is, however, an obligation to ensure that all electrical equipment is safe, under the Electrical Equipment (Safety) Regulations 1994, the Plugs and Sockets Regulations 1994, the 2005 Building Regulation – Part P, and the British Standard BS1363 relating to plugs and sockets.
All electrical certification should be carried out by an electrician whom is registered with the National Inspection Council for Electrical Installers and Contractors (NICEIC). There are two types of electrical certificate:
Periodic Inspection Report
Portable Appliance Testing (PAT) FAQ
IMPORTANT INFORMATION FROM 25TH OCTOBER 2019 PLEASE READ BELOW:
Sections 122 and 123 of the Housing and Planning Act 2016 (electrical safety standards) come into force on 25 October 2019. This means we are finally one step closer to the introduction of mandatory electrical safety checks in the private rented sector in England and will see actual regulations very soon.
An enabling power was contained in the Housing and Planning Act 2016 under Section 122 to allow the Secretary of State through regulations to impose duties on private landlords to ensure that electrical safety standards are met in a property under their ownership, while a tenancy is in place. The Section also allows the Secretary of State to specify obligations that may be required of the landlord with regards to the frequency of checks and the expertise expected of any persons who undertake such checks.
Section 123 provides for the enforcement of any responsibilities introduced under Section 122 including the use of financial penalties and rights of appeal.
Following Royal Assent of the Housing and Planning Act on 12 May 2016, a working group that included representation from ARLA Propertymark and other industry, electrical and tenant bodies was established to provide recommendations on what the requirements for electrical safety in the private rented sector should look like.
Now that the Commencement Order is in place, the Secretary of State has the power to lay actual regulations, which we expect to be laid before Parliament shortly.
Summary of Electrical Safety Working Group recommendations:
Recommendation 1: Five yearly mandatory electrical installation checks should be set out in secondary legislation.
Recommendation 2: Visual checks of the safety of the electrical installation by landlords at a change of tenancy should be encouraged as good practice and set out in guidance.
Recommendation 3: A report should be issued to the landlord which confirms that an EICR has been completed along with confirmation that any remedial work necessary has been undertaken satisfactorily. A copy should be issued to the tenant at the beginning of the tenancy and should be made available to local authorities on request.
Recommendation 4: Landlord supplied electrical appliance testing and visual checks of electrical appliances by landlords at a change of tenancy should be encouraged as good practice and set out in guidance.
Recommendation 5: The installation of Residual Current Devices (RCDs) by landlords should be encouraged as good practice and set out in guidance.
Recommendation 6: A Private Rented Sector electrical testing competent person's scheme should be set up which would be separate from existing Building Regulations competent person's scheme.
Recommendation 7: DCLG should commission the Electrotechnical Assessment Specification (EAS) management committee to consider the most effective method of recognising 'competent PRS testers' to carry out electrical inspections and tests.
Recommendation 8: Legislative requirements should be phased in, beginning with new tenancies, followed by all existing tenancies.
Fire Safety Safety guide
The Furniture and Furnishings (Fire) (Safety) Regulations 1988 (as amended in 1989 and 1993) sets minimum fire resistance standards for domestic upholstered furniture, furnishings and other products containing upholstery that remain in a dwelling during the course of a tenancy.
These include any of the following which contain upholstery:
furniture intended for private use in a dwelling, including children's furniture
beds, head-boards of beds, mattresses (of any size)
sofa-beds, futons and other convertibles
nursery furniture, garden furniture suitable for use in a dwelling
scatter cushions, pillows, seat pads and loose and stretch covers for furniture
The Regulations do not apply to:
furniture made before 1950
sleeping bags
bed-clothes (including duvets)
loose covers for mattresses
pillowcases
curtains
carpets
For items that do apply, a suitable label must be attached to the furniture in a prominent position so that the label will be clearly visible to a potential purchaser of the furniture and the wording on both sides can be read with reasonable ease. Examples of these labels can be seen above.
A big change has just come into effect for landlords across England with the introduction of the new 'Right to Rent' rules.
The official start date for the new rules was February 1, 2016. If you have yet to find out about the new rules, here's a guide to what you need to know.
Right to Rent Overview
Right to Rent refers to new checks that landlords (or agencies) must now make to ensure that the tenants have the right to live and rent a residential property in the UK. They are part of the Immigration Act 2014.
As a landlord you will now have to check that tenants over the age of 18 have the legal right to rent a residential property in England (even if they are not named on the tenancy agreement or there is no tenancy agreement in place).
This applies to most residential tenancies, but it does not apply to social housing and care homes.
The Checks
Landlords must now find out which adults will be living at the property as their main home or only home, and they must make sure they see the original documents providing tenants with the right to live in the UK.
People who have the right to rent include anyone:
who holds a British or European Economic Area passport
who has a right of abode
with an indefinite leave to remain
with no time limit on their stay
Checking the Documents
Checking the original documents is one of the main duties for landlords. To do this:
Make sure the documents belong to the tenant and that they are genuine and original
The tenant must be present when you check them
Check that the photo is of the tenant
Make sure the date of birth is the same in each document
The right to stay must not have expired
Documents should be undamaged and unmodified
You can find a useful user guide to document checks here.
When you check the documents, you should make a copy of each one for your records, making sure you copy every page with their details, and also make a record of the date you make the check.
You should then keep these copies throughout the tenancy and for one year after it ends.
Importantly, you will also have to follow data protection law, details of which you can find here.
When the Documents Are with the Home Office
The documents may be with the Home Office, in which case you will have to use the landlord's checking service – you will find this here, and you can call the helpline on 0300 069 9799. The tenant should have a Home Office reference number that you can use.
When the Tenant's Permission is Limited
If you find that the tenant's permission to live in the UK is limited, you need to make a further check, otherwise you can be given a fine (a civil penalty) if their permission time runs out during the residency.
You should make this check before their expiry date or 12 months after the previous check has been made. If you find that the tenant's time has run out, you must inform the Home Office, or again you could receive a fine.
Penalties
If you do not carry out the check and you end up renting your property to someone who does not have the right to rent, you could receive a fine of £3,000.
Know the Facts
As a landlord or agent, it is your responsibility to comply with the new Right to Rent rules, so make sure you understand exactly what you have to do. This link at Gov.uk provides full details of the process, so read through it and make sure you contact the authorities if you are in any doubt about what you have to do – rather than risking a fine for failing to comply.
Smoke Alarms & Carbon Monoxide - Guidance
From the 1st October 2015 regulations require both smoke alarms and carbon monoxide alarms to be installed in rented residential accommodation. Changes are also made to the licence requirements in relation to houses in multiple occupation (HMOs), such as shared houses and bedsits which require a licence and also in relation to properties which are subject to selective licensing. The Regulations apply both to houses and flats. Failure to comply can lead to a civil penalty being imposed of up to £5,000.
Energy Performance Certificate - Guidance
With effect from 1st October 2008, all new tenancies require an Energy Performance Certificate. Their purpose is to determine how energy efficient homes are on a scale of A-G. The most efficient homes - which should have the lowest fuel bills - are in band A. The certificate uses the same scale to define the impact a home has on the environment. Better-rated homes should have less impact through carbon dioxide (CO2) emissions. The average property in the UK is in bands D-E for both ratings.
The certificate includes recommendations on ways to improve the home's energy efficiency to save money and help the environment.
Houses in Multilple Occupancy
If the landlord wishes to rent their property to multiple occupants, it may mean that a licence is required before the property can be legally rented. Houses in Multiple Occupation are also referred to as "HMOs" and the purpose of the licensing scheme is to improve management and safety standards in this area of the rental sector.
It is now a mandatory duty for:
All Local Authorities to have a licensing scheme
Owners of certain types of HMOs to have a licence
For further information on houses in multiple occupation and how this may effect you as a landlord, please speak to one of our representatives or click on the link below
HMO Licence information Coventry City Council
HMO licence fee rise
Dear Coventry Landlords
There are forthcoming changes to HMO licensing which of which you should be aware: our licensing fees are changing, and the criteria for determining which properties require a licence are also set to change.
Changes to Licensing Fees
The fee to apply for a mandatory licence is set to rise on 1 April 2018.
Currently, the fee for a mandatory licence in Coventry is £804.97 for seven or fewer lets, with a £10.89 surcharge for each let above seven. From April, this fee will rise to £829.12 for seven or fewer lets, with a surcharge of £11.22 for each let above seven. This change is in line with inflation – we do not make any profit from licensing fees.
Because we do not take payment on licence applications until the application has been raised on our system, we will honour the existing prices for any complete application received before 1 April 2018 if we have to take payment after that date.
For more information on how to apply for a licence, please visit www.coventry.gov.uk/hmo or e-mail hmo@coventry.gov.uk.
Changes to Licensability Criteria
Currently, HMOs require a licence only if they comprise three or more storeys and five or more persons. The Government has announced that it is removing the "three or more storeys" criterion, and that as of October 2018 all HMOs with five or more persons will require a licence, regardless of how many storeys they comprise. Complete applications for any such properties will need to be received by us by 1 October 2018.
The relevant legislation can be viewed at http://www.legislation.gov.uk/uksi/2018/221/made.
Fire Risk Assessment
Immigration - Guidance
Identity Checking - Guidance
TAXATION - Guidance
As a Landlord, you will be liable for tax on rental income and you must inform the Inland Revenue that you are letting the premises.
There are a number of allowances that you can claim against on your rental income. You should seek advice on these allowances from your accountant or from the Inland Revenue website which can be accessed on www.hmrc.gov.uk. You must also keep all your invoices for six years for taxpurposes.
Overseas Landlords and Income Tax
The Inland Revenue has special rules regarding the collection of tax on rental income if you are a Landlord who is resident overseas, or you subsequently move abroad. If you fall into this category it is your responsibility to obtain a tax approval number from the Inland Revenue. The relevant form and guidance notes can be down loaded from the above website. Until that approval number is given to us by the Inland Revenue. Benburys are legally obliged to deduct tax from your rental income at the prevailing rate which is currently 20%. This money is forwarded to the Inland Revenue on a quarterly basis. If the tenant pays you direct and he has not received approval from the Inland Revenue to pay the rent gross he must deduct tax and forward that to the Inland Revenue on your behalf. No person is exempt from this scheme.
If your intention is to reside abroad then we can offer the following services:
Arrange for annual rental accounts to be prepared by a local firm of chartered accountants and be submitted to the Inland Revenue at the end of each tax year. Details available on request.
Tax saving schemes relating to earned income abroad and the possibilities of re-investing your income to receive tax-free interest. Again we have the expert advice of a firm of financial consultants on hand, details are available.

The Tenancy Deposit Protection Scheme
Under the provisions of the Housing Act 2004 every landlord or letting agent that takes a deposit for an Assured Short-hold Tenancy in England and Wales must join a Tenancy Deposit Scheme. The new regulations came into effect from April 6, 2007. The purpose of this regulation is to ensure good practice. The secondary purpose of the new regulations is to try and keep disputes between landlords and tenants out of the courts by encouraging Alternative Dispute Resolution.
In November 2006 three companies were awarded contracts by The Government to run Tenancy Deposit Schemes:
Custodial scheme
The Deposit Protection Service (The DPS)
Insurance backed schemes
Tenancy Deposit Solutions Ltd (TDSL) (now trading as my deposits)
The Tenancy Deposit Scheme (TDS)
Changes Since 1st June What can a landlord now charge for?
As you may already know, the law around what tenants can be charged for when starting new tenancies changed recently.
The Tenant Fees Act, which came into force at the start of June, says that landlords and letting agents can no longer charge for a range of admin fees that they previously had. It's also capped tenancy deposits to five weeks.
But because this new law hasn't been around for long, tenants are understandably trying to get to grips with what this new legislation specifically means for them.
We've seen lots of questions posted online about what the Tenant Fees Act does and doesn't cover, so here's our brief Q&A for renters which we hope you find useful.
What can landlords charge renters under the Tenant Fees Act?
For properties in England, the Tenant Fees Act 2019 means that in addition to rent, lettings agents can only charge tenants (or anyone acting on the tenant's behalf) the following permitted payments:
Holding deposits (a maximum of 1 week's rent)
Deposits (a maximum deposit of 5 weeks' rent for annual rent below £50,000, or 6 weeks' rent for annual rental of £50,000 and above)
Payments to change a tenancy agreement eg. change of sharer (capped at £50 or, if higher, any reasonable costs)
Payments associated with early termination of a tenancy (capped at the landlord's loss or the agent's reasonably incurred costs)
Utilities, communication services (eg. telephone, broadband), TV licence and council tax
Interest payments for the late payment of rent (up to 3% above Bank of England's annual percentage rate)
Reasonable costs for replacement of lost keys or other security devices
Contractual damages in the event of the tenant's default of a tenancy agreement and
Any other permitted payments under the Tenant Fees Act 2019
Can landlords demand professional cleaning at the end of a tenancy?
This is a question Rightmove has seen pop up a lot recently. The short answer is no – your landlord can't force you to pay for a professional to clean your property at the end of your tenancy for any new tenancies. However, if your tenancy contract began before June this year, and in it you agreed to pay for cleaning services to be provided, then a landlord or agent can carry on charging these fees up until 31 May 2020. But from 1 June 2020, this will no longer be the case.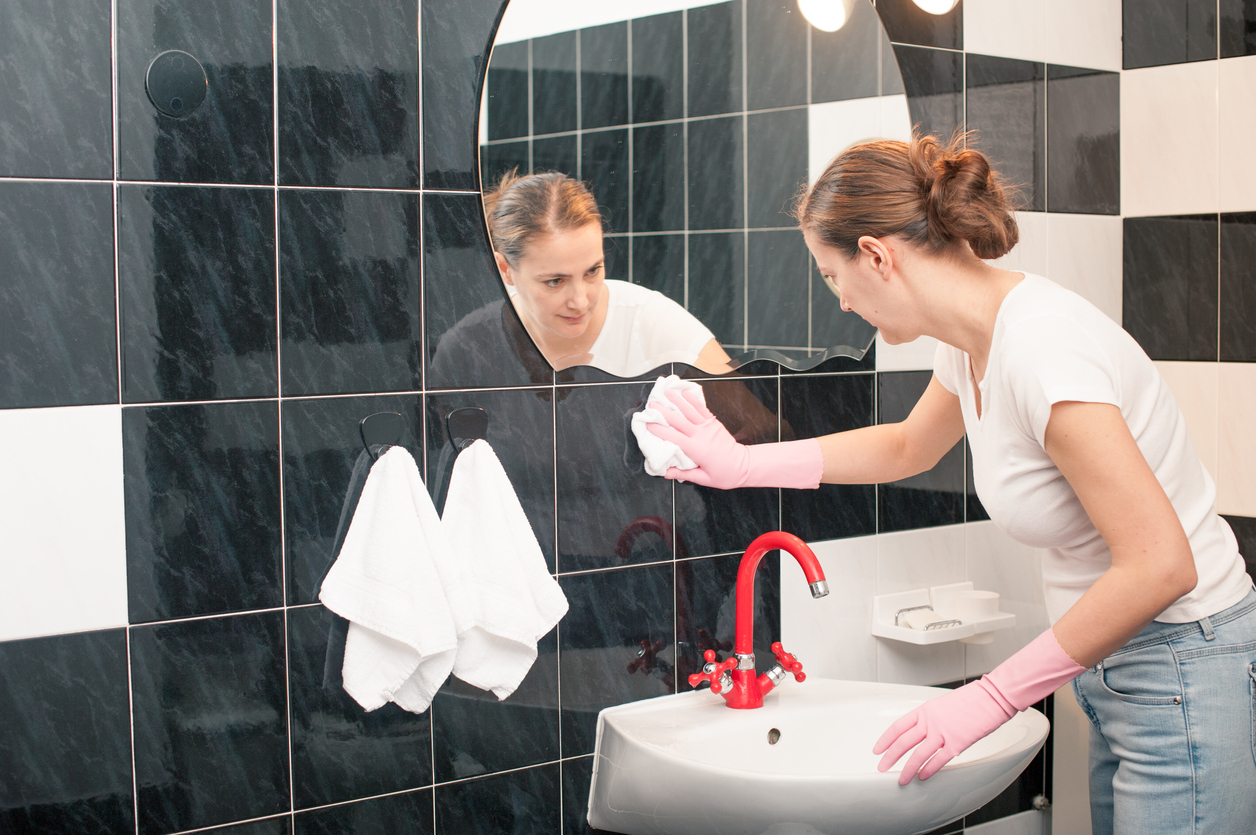 What can I do to avoid being charged for cleaning bills at the end of a tenancy?
The best way to avoid a charge is to leave the property in the same state – or better – as when you moved in. That way you should have nothing to worry about. A landlord or letting agent can't make you use the services of a specific cleaning firm at the end of your tenancy, but they can charge you for their own cleaning costs if the property is not left in a fit condition for the next tenant. To ensure you cover yourself as much as possible, we recommend you walk around the property when you first move in and make an inventory list of every detail you see, along with notes and photographs. It's important to make a note of the state of the furniture, and the décor, as well as the overall cleanliness of the property. You should then share this with your landlord within a day or two. What this means is that when you come to vacate the property, both you and your landlord will be working from the same starting point should any disagreements arise.
Can a landlord make me use a specific cleaning company?
You can't be made to use a specific cleaning company at the end of your tenancy. But you must clean the property to the same standard as it was when you moved in. In essence, you should return the property in the condition you found it, notwithstanding any fair wear and tear. A landlord can't withhold money from your deposit for any changes to the property which are a result of fair wear and tear.
Can a landlord or agent ask me to pay for checking-out on a Saturday?
No – a landlord can't charge you a fee for leaving the property on a Saturday (or at any time across the weekend). The same applies to checking out of a property in the evening.
If you want to read the full details of the Tenant Fees Act 2019, read the Government's official literature here.